As the virus hits, you're going to need something to read, right? What you really want to know about in this time of need is another fab little review to one of my early books, The Little Book of Unholy Questions. Pearce loved writing for the reasons given in the review. There was a delight to him to ask seemingly prima facie, innocuous or vacuous questions, but when you look at the question from a different direction, you realise that it is actually quite penetrating.
5.0 out of 5 stars Thoroughly Enjoyable!

Reviewed in the United States on February 17, 2020Format: Kindle EditionVerified Purchase

Well written, humourous, and somehow, at the same time, deep.

The question about Balaam and the talking donkey really had me. I had never considered the underlying context of how illogical the story is since it is so absurd to begin with.

Some questions do seem rather simplistic and innocuous until you give them a bit of thought. Combine this with a little Socratic questioning, and you may cause more than a few headaches for your friends and family.

Looking forward to reading his book on free will next!
And another review that's just gone up adds:
5.0 out of 5 stars A stimulating read

Reviewed in the United States on February 4, 2020Format:

Paperback Verified PurchaseAn outstanding and stimulating little book. It poses so many good questions that as a former evangelical I never thought of. If more Christians read this book it would give them food for thought and cause them to further investigate their beliefs. I recommend all of the author's books!
The description reads:
Jonathan M.S. Pearce's second book (after Free Will?) continues along the same philosophical and theological vein, aiming to provide a cumulative case against the existence of God, and more specifically, God's triple characteristics of omniscience, omnipotence and omnibenevolence. Split into useful categories with an introduction to each category, these are questions that demand to be answered adequately and plausibly in order for the believer to retain a rationally-based faith. 

Pearce's easy writing style and explanation of philosophy, theology and science on the popular level make this book as enjoyable to read as it is thought-provoking. Does God change his mind when prayed to, and why has he never produced a miracle since biblical times that couldn't have occurred naturally anyway, like re-growing an amputee's leg? God only knows.

"Pearce demands from God a rational explanation to all of the problemas that seem illogical or incoherent. These are … damningly challenging inconsistencies in the Christian narrative that necessarily antagonize any rational reader. If you are still or used to be Christian, "The Little Book of Unholy Questions" is an overview of the critical questions you need to be asking yourself." – Derek Murphy, Jesus Potter Harry Christ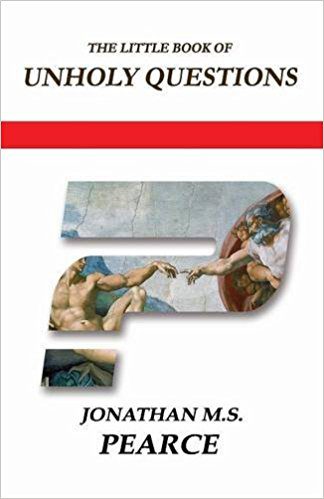 ---