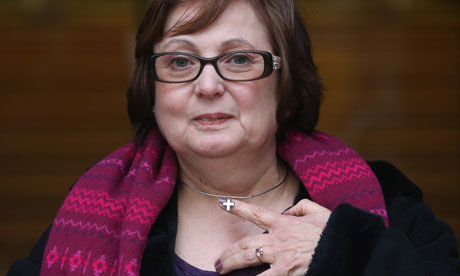 Christians are framing it like it's a discrimination issue – it is not; having a religion is not an excuse not to follow the rules:
Chaplin, 57, a geriatrics nurse from Exeter, was moved to an administrative job after she refused to take off a crucifix around her neck. Her case was rejected in January on the grounds that such an instruction was necessary for hygiene and the safety of patients and staff.
Ladele, 52, a local authority registrar, was disciplined by Islington council in London for refusing to conduct civil partnership ceremonies, while McFarlane, 51, a Bristol relationship counsellor, was dismissed by the charity Relate for saying he might object to assisting same-sex couples.
The court had ruled that both employers' actions were justified, given their obligations to prevent discrimination against people using their services.
Tuesday's decision was welcomed by the National Secular Society. The group's executive director, Keith Porteous Wood, said: "Fortunately, Europe's highest court has now wisely followed numerous lower courts and rejected the applicants' attempts for religious conscience to trump equality law.
"We hope that this will now draw a line under the attempts by a small coterie of Christian activists to obtain special privileges for themselves which would invariably come at the expense of other people's rights.
Too bad Nadia Eweida got away with it!