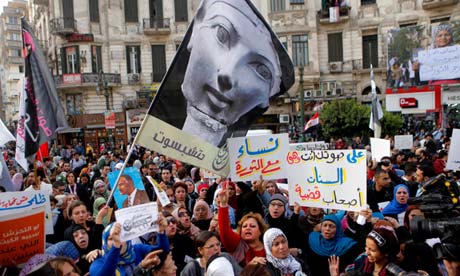 Ohh, look! Egypt's Muslims are angry.
Why? Because the UN keeps treating women like people:
Egypt's Muslim Brotherhood have claimed that a UN declaration calling for an end to violence against women will lead to the "complete disintegration of society".

Delegates at the UN's Commission on the Status of Women (CSW) in New York have spent the last fortnight debating the wording of a declaration that would condemn violence against women. The brotherhood, whose close allies control Egypt's parliament and presidency, slated the declaration in an online statement on Thursday – calling it a decadent and destructive document that undermined Islamic ethics by calling for women to work, travel and use contraception without their husbands' permission.
What? Islamic ethics? Isn't that just the most cynical oxymoron?
By the way, shame on the UN's CSW for pandering to injustice.  What's next? Will they rephrase the wording in the Declaration of the Rights of Man and of the Citizen?