The BBC reports:
The archaeologist who looked after ancient ruins of Palmyra in Syria for 40 years is reported to have been killed by Islamic State (IS) militants.
Khaled al-Asaad had been held for about a month by the group, which seized the Unesco World Heritage site in May.
The 81-year-old's family informed Syria's director of antiquities Maamoun Abdul Karim that he had been beheaded.
He described Mr Asaad as "one of the most important pioneers in Syrian archaeology in the 20th Century".
IS has demolished several ancient sites in Iraq, and there are fears that it will destroy Palmyra, one of the archaeological jewels of the Middle East.
'Insisted on staying'
The Syrian state news agency, Sana, and the UK-based Syrian Observatory for Human Rights reported that Mr Asaad had been beheaded on Tuesday at a square outside the museum in the modern town next to the ruins, also known as Tadmur.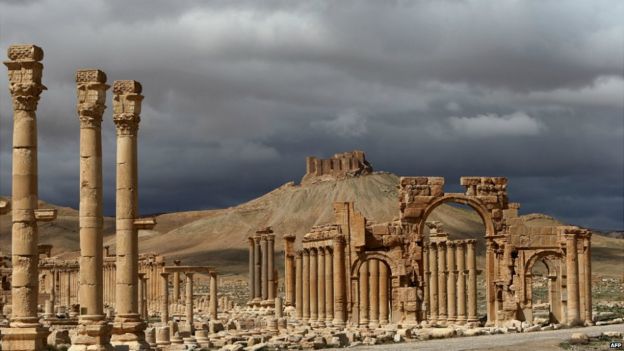 His body was then hung from one of the Graeco-Roman columns, Mr Abdul Karim said.
IS militants had tried to extract information from him about where some of Palmyra's treasures had been hidden to save them from destruction, Mr Abdul Karim added.
Ms Asaad spent most of his life working to promote and protect Palmyra.
He was in charge of the site for four decades until 2003, when he retired. He then worked as an expert with the antiquities and museums department.