A concise collection of election day final forecasts from reasonably reputable analysts, for future reference.
Mostly focused on electoral vote (EV) projections, for constitutional reasons. All forecasts as of this morning, Feb 8th, 0900 CST.
---
Clinton 307 EV, Trump 231 EV, Clinton win probability: 99%
Oddly enough, PEC's current histogram is significantly less bullish on Clinton than their current stated probability.
---
Clinton win probability: 84%
Upshot doesn't report EV estimates, but their histogram peaks somewhere between 310-350 EV for Clinton.
.

---
Clinton 323 EV, Trump 215 EV, Clinton win probability: 92%
---
Clinton 302 EV, Trump 235 EV, Clinton win probability: 71.4%
Side note: How to tell 538's model apart from the others:
Loosely speaking:
538 more right if HRC gets <=285 EV or >=375 EV
Others more right if she gets 300 EV to 350
in-between areas sort of a tie

— Nate Silver (@NateSilver538) November 7, 2016
Prediction: Nate will soon regret saying this.
---
Clinton 322 EV, Trump 216 EV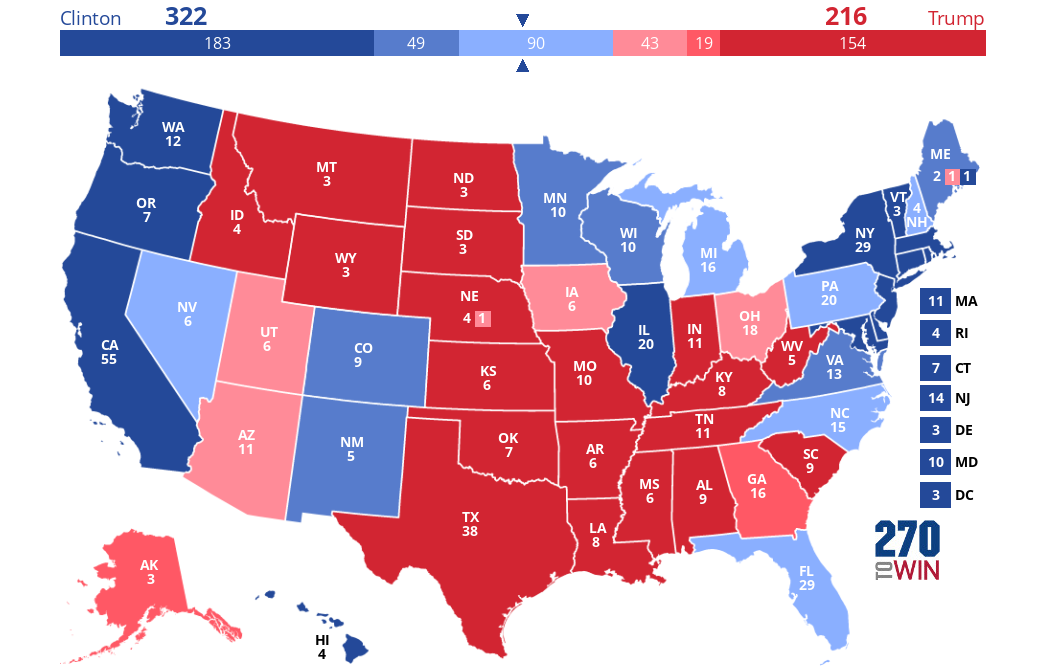 Click the map to create your own at
270toWin.com
---
Looking forward to seeing who came closest to projecting reality.
If you know of any other prediction models worth sharing, please leave a comment below.